*Exclusively to Townsville

HOW DOES THE GENTLE WAY WORK?
The Gentlest End Of Life Option
STEP 01
FUNERAL SERVICE
Your Funeral Service really doesn't change from other services. The only difference is that the CASKET is a RENTAL Casket, which will allow you to have a top-of-the-range casket at a fraction of the cost.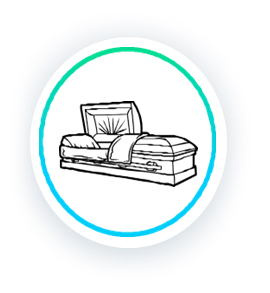 STEP 02
GENTLE WAY PROCESS
Once the Funeral Service has been completed, your loved one is removed from the RENTAL Casket and then placed into a water-soluble wrap that will break down within The Gentle Way. This process can take 8 hours from start to finish as the water and PH level is increased which in turn will only leave the bone inside the gentle way. The Bone is then removed and dried and ready for the next step.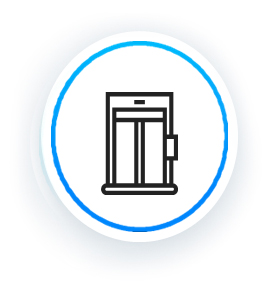 STEP 03
PROVIDE FAMILY WITH REMAINS & PLANT
The Gentle Way has a water treatment plant attached to the machine that allows us to backflush the system, placing all DNA build up from the filtration system into a pod that drops into a plant that is given to the family as a living vital presence of their loved one. Not only do you receive this plant, you also receive the loved ones ''remains'' in an urn. (The same way you would receive them as a normal cremation)
"without the environmental impact, and a Gentler alternative".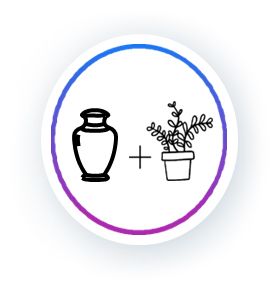 Welcome to The Gentle Way
We designed The Gentle Way as a new end-of-life funeral care option as it is the most gentle way of taking care of our loved ones after passing.
The Gentle Way is here for you during a delicate time. Planning a funeral is never easy. On top of the pain of losing a loved one, you now have to worry about making extensive plans and a string of tough decisions. One of the biggest things to consider after saying goodbye is whether the person will be buried or cremated. Even if we make this choice for ourselves, it's rarely an enjoyable decision.
With over 20 years of experience organising and overseeing all aspects of farewelling a loved one, we all want to make sure our loved one gets the perfect send-off, in accordance with their wishes, and we all want our own funerals to go the way we want, leaving a perfect legacy.
For many of us,
this involves environmental concerns. In one study in 2018, 54% of people said they were considering a green burial. More and more of us are concerned with our impact on the planet and want to make our final act an eco-friendly one. The Gentle Way was developed to give people this option.
Family Values
With local family values, we pride ourselves on being the most reliable funeral home around. We provide all the support you need during the loss of a loved one and handle all aspects of the funeral, cremation or gentle way, from planning to implementation, with care and integrity. We'll be there for you with heart and understanding.
Respect and Dignity
We treat all people with respect and empathy and appreciate the trust that families place in the service we provide.
Quality & Service
We provide a caring, professional service, which is conducted to agreed company standards and preserves our clients' privacy and confidentiality.
Sustainability & Environment
We believe it's important to provide an environmentally friendly process that utilises green energy to reduce the impact and carbon footprint on the planet.
Why Choose The Gentle Way?
Burials are not good for the environment. Each year conventional burials use 13.5 million kilograms of hardwood, 2,700 tons of copper and bronze, and 104,727 tons of steel. The amount of wood needed to create caskets is the equivalent of more than 16,000 square kilometres of forest.
On top of the raw materials, the processes involved like cutting down trees, building caskets, transporting materials, and manufacturing cement all result in an enormous amount of greenhouse gas emissions.
And all this is without even considering the sheer amount of land involved in burial — worldwide our burial spaces account for more than 11,000 square kilometres.
Embalming bodies also comes at an environmental cost, as embalming fluid is rich in ingredients like formaldehyde, glutaraldehyde, dyes, and disinfectants. All these chemicals remain in the ground after burial and seep into our water supplies in worrying amounts.
But what about cremation?
It's sometimes marketed as a more eco-friendly alternative to burial, but it's not exactly green. The process of cremating a body releases all kinds of chemicals into the atmosphere including benzenes, furans, acetones, and different carcinogens.
The Gentle Way is a truly environmentally-friendly alternative. It doesn't create any waste or emissions and is completely self-contained. It's the ideal choice for those who are concerned about the environmental impact of their funeral. The Gentle Way is a truly environmentally- friendly alternative to burial and cremation. It doesn't create any waste or emissions and is completely self-contained.
It's the ideal choice for those who are concerned about the environmental impact of their funeral.
The Gentle Option
About The Gentle Way
Planning a funeral is never easy. On top of the pain of losing a loved one, you now have to worry about making extensive plans and a string of tough decisions. One of the biggest things to consider after saying goodbye is whether the person will be buried or cremated. Even if we make this choice for ourselves, it's rarely an enjoyable decision. We all want to make sure our loved one gets the perfect send-off, in accordance with their wishes, and we all want our own funerals to go the way we want, leaving a perfect legacy.
Do I Need to Buy a Coffin?
No. We offer a beautiful Tasmanian Blackwood casket as a rental at minimal cost, this way everyone has a beautiful casket without the huge expense.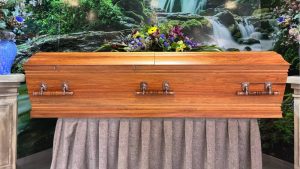 How it Works
When a body is buried, it can take many years to decompose. This process happens when the alkaline in the ground gradually wears down the body. The Gentle Way essentially speeds this process up. We place the body inside a stainless steel chamber in warm water and raise the alkalinity of the water, speeding up the decomposition process to just 8 hours.
In the end, the only remains will be the bones and liquid — the basic organic compounds that result from the breakdown of fat and tissues to their original state. This liquid can then be filtered back to PH neutral and used to grow trees, for example. The bones are dried and reduced to a white powder, which will then be returned to the loved one's family, along with the desert rose, containing their loved one's DNA The benefits of The Gentle Way Unlike traditional methods like burial and cremation, The Gentle Way produces no emissions and only two final products — bone fragments and water.
The process is so gentle that pacemakers and artificial joints can remain inside the body throughout, unlike during cremation. Even items as soft as breast implants will survive in perfect condition.
YES, we still do Cremations if the Families chose's this option.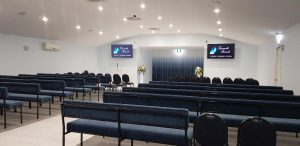 Arranging a funeral is one of the most trying tasks you will ever have to do. At Townsville Funerals, we understand the range of emotions you will feel in this time and aim to ease the burden.
Lori and Neville Boyle are the owners of Townsville Funerals and Townsville Cremations and together with their eight staff members, have over 20 years of experience in the funeral industry. Each staff member is trained in all aspects of funeral preparations from the collection of your loved one, to the preparation of the body, to overseeing the flower arrangements and brochures. Lori is also a celebrant so she can work with you to organise the perfect celebration of your loved one's life.
Part of our mission is to give you an all-encompassing, stress-free experience including looking after all of the people touched by your loved one. This means we go above and beyond in all aspects of our service. From the moment we are contacted we ensure that we not only treat your deceased with all the love and care they deserve but also help the carers who looked after your loved one in their final moments. Part of this role includes the gentle handling of your loved one as they are transferred into our care.
We have everything you need:
Our new premises has every feature you could need for a funeral, including a chapel, reception room, children's playroom, a quiet room for that peaceful moment of reflection or for breastfeeding and a function room for wakes after services. All of this is provided as a convenience to you, to free you from the pain of multiple conversations with different retailers.
We understand how overwhelming the process of organising a funeral can be. This is why we work closely with a local grief counsellor who we can also put you in touch with if you feel the need.
At Townsville Funerals, we operate under strict guidelines and a code of conduct. We constantly upgrade our facilities and train our staff to a high quality and professional standard. This includes making sure that we have all the right equipment for handling your loved one in the most dignified way possible.
We know that arranging a funeral is often seen as an expensive process which only adds to the stress of the time. This is why we guarantee that we will never unnecessarily increase our prices nor lessen the quality of our services in order to save money. All our customers get the same high standard of care at all times.

Having been in the Funeral Industry for many years, our family at Townsville Funerals has been working hard to improve the service we provide to local families throughout Townsville. With our attention to detail and our genuine concern for local families, we remain a keystone member of the community that we serve so well.
Townsville Funerals has become a place of trust and care where local families receive understanding and thoughtful attention during one of life's most difficult times … the loss of a loved one. We understand your needs and feel your pain, aware of just how difficult it is, with overbearing grief and other emotions clouding the need to attend to your loved one's personal affairs.
A genuine feeling of … what should I do now? At Townsville Funerals, we know exactly what to do and how to help you in this stressful time of your life.
When you are grieving the loss of a loved one, the added responsibility of organising the funeral can be overwhelming. At Townsville Funerals along with our sister company Townsville Cremations, we've been helping people for many years through this distressing time of need and we're here to ease your burden every step of the way.
Through the process of planning a funeral together, we can create a meaningful memorial and tribute to your loved one.
We will answer any questions you have, including:
– Who do I contact?
– What are my legal responsibilities?
– What immediately needs to be done?
– How do I arrange a funeral service?
You may, however, have additional questions of your own, if so please call Townsville Funerals on 07 4721 0011 or 0427 626 127
When meeting with us at Townsville Funerals, discuss any ideas you may have for the service. By adding personal touches, you can create a very special service for the one you cherished, reflecting the unique, exclusive, and exceptional qualities of your loved one.
Here are some suggestions:
– Place some of your loved one's favourite items on the coffin
– Create a picture board with a montage of memorable photos to be displayed
– Choose a particular song or piece of music that may be special to you or your loved one.
– A floral tribute on the coffin may contain flowers that were their favourites or come from their own garden.
– Make the order of service cards with photos, quotes and poems available at the funeral service. We can help with these.
– During the service, project audiovisual (Memories of a Life USB), images of the person's life (again, we can help with this).
– R.S.L., Lions, Rotary, Masonic Lodge or other clubs or associations could be asked to participate at the service if your loved one was a member.
One of the hardest decisions a family has to mark is:
One of the hardest decisions families have to make if their loved one has not left their specific instructions, is whether to have a burial or a cremation, a Chapel or a Church. Do you want religion to be part of the service or not at all? Sometimes your own beliefs and feelings can help make this decision easier.
At Townsville Funerals, we offer ALL types of services, whether you want to have a full service in a church, a private service in a chapel or a cremation and then a private memorial service in your own backyard. Nothing is right or wrong, it is your decision. Either way, Townsville Funerals will gladly discuss all these options with you and organise everything for you, from the Minister, the flowers, the newspaper notices and any other arrangements that need to be made.
We have a wide range of coffins ranging from MDF to full timber caskets and will always help you tailor your needs and wishes together with your budget. Our friendly staff will come to you if you wish, our aim is to make this an occasion that is friendly and affordable without adding stress to an already difficult time.

Organising a funeral can be broken down into three sections:
– Information for legal documents gathered.
– Funeral Service details discussed and organised.
– Funeral Service conducted.
Information gathered at the funeral arrangement is required to register the death with the Department of Births, Deaths and Marriages and is required by law. We also gather information for cremation paperwork or burial application. From this information proof of identity is made, Government statistics compiled, genealogical statistics collected, the death is registered, and a Registered Death Certificate is issued.
This information includes:
– Name, Sex and Address
– Date of Birth and Date of Death
– Place of Birth and Place of Death
– Occupation during working life
– If the deceased was born overseas when they first arrived in Australia
– Whether or not the deceased was of Aboriginal or Torres Strait Islander origin
– Marital Status and Marriage Details
– Details about the deceased's spouse (incl maiden names), parents and children
– Next of Kin details (Applicant's details)
Organising the details of the funeral service such as burial/cremation, church, chapel or garden service, Minister or Celebrant, viewing and/or dressing, casket or coffin, floral tributes or donations, death and/or funeral notices are all items that you will have to consider.
There are a number of other questions that will be asked, including if you wish to have pallbearers, catering requirements (if applicable), music or hymns etc. As you can see there are a lot of decisions that go into funeral arrangements, so it is wise to think about them early if possible.
The funeral service itself is the point where all the decisions that you have made are put into place and are attended to in a timely and dignified manner. During the funeral, the staff of Townsville Funerals attend to all details, so you don't have to worry or be distracted. It is our aim to give our clients the very best care and personal attention we can provide.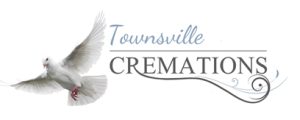 Ph: 07 4779 5566
3 Railway Ave, Railway Estate, QLD, 4812
Locally Owned & Operated