Is your website mobile-friendly?
Australian Business Directory is Mobile Ready
There are no four riders of the apocalypse, but mobilegeddon is here: Google is due to roll out its latest search ranking algorithm update. Following the way in which mobile phones are driving internet uptake and innovation, this update will focus on favouring mobile devices – and websites that aren't mobile-friendly are likely to find their search results ranking gets clobbered.
The commercially sensitive secret formulae Google uses to calculate and rank search results are constantly refined. Minor refinements to this algorithm go unnoticed and only appear if Google confirms them. On the other hand major updates such as Google Panda and Google Penguin have had a big impact on the search engine optimisation (SEO) industry.
SEO is no longer an optional extra
Search engines are the main means of finding our way through the vast amounts of information online. As illustrated by the Customer Journey to Online Purchase study, organic search (that is, googling for something) plays a major role in bringing a customer to an organisation.
The growing importance of search engines means that SEO is becoming a hygiene factor in digital marketing. In other words, it's essential, like washing or brushing your teeth.  Any change in the search ranking algorithm can have drastic effects on their search page ranking – and consequently a major impact on the organisation's finances.
No company is immune from SEO problems. Case studies such as JC Penney, Interflora, the BBC and other major brands are just a few examples of big sites that have found themselves penalised. Those that rely entirely on online customers rely essentially rely on search engines for their revenue. The auction and e-commerce site eBay was affected last year by losing ranking for an estimated 120,000 web pages – reasons for which have not been confirmed by Google but could be related to the search ranking updates at the time. This suggests that size and market penetration is no defence against poor SEO. The search engine penalty was estimated to cost eBay US$200m – acknowledged in its financial reporting.
While the latest Google search algorithm change only affects search engine users on mobile devices such as phones and tablets, the repercussions can be devastating to some businesses. Imagine you're a restaurant owner in Manchester, who might be interested in ranking well for search terms such as "restaurant in Manchester". Using Google's Display Planner tool we can see that for this keyword that mobile and tablet combined make up more than 70% of users. The message is clear: a restaurant without a mobile-friendly website is going to lose out, while those that do are going to benefit.
It's all about the first rank
While not being on the first page of Google's search results might not be a problem for every business, the findings of repeated studies show just how skewed the proportion of click-throughs from search results are – not just towards the first page, but even to the first result. This makes a big difference in visitor numbers, which makes a big difference in sales.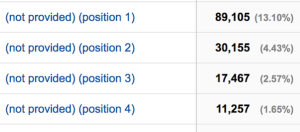 This image shows Google Analytics data showing visitors arriving at the businessculture.org website. Although the keywords they searched for aren't visible (hence "not provided"), the numbers demonstrate the rapid falling-off of click-throughs as the businessculture.org website appears at a progressively lower rank on the search results page. Where a link to businessculture.org appeared as the first search result, click-throughs were almost triple that of the second-placed link.
Another year of mobile
We've predicted this shift by conducting industry surveys of digital marketing firms. Most of the agencies and web designers who took part in our research had already moved towards a mobile-first website design approach, where priority in design and usability is given to mobile users.
Google has not kept quiet about this change, having long offered the tools to help website owners get their websites in order.
Items to check for include having large text that's visible on a small mobile screen and links that are not so close to each other that they're difficult to navigate using a finger.
There have been frequent claims over the years that this was "the year of mobile". But in 2014 this claim was backed by the fact that for the first time, more visitors to Google came from phones and tablets than from desktops and laptops. With Google's mobilegeddon update, in 2015 those repercussions are going to be felt in earnest.
Aleksej Heinze
Senior Lecturer and Co-Director of the Centre for Digital Business, University of Salford